The FIHT was implemented as a way to archive and preserve and share the town's memories in sights and sounds. It was developed as a showcase of history for residents and visitors to share and enjoy.
The FIHT is an important element of the town's revitilizations efforts with the primary purpose of sharing our town to the public at large and stimulating visits to the town by tourists interested in heritage activities.
The project is funded by the Maryland Historical Trust – Maryland Hertiage Areas Program (with special assistance from The Mountain Maryland Office, The Garrett County Commissioners, The Town of Friendsville and The Garrett County Arts Council.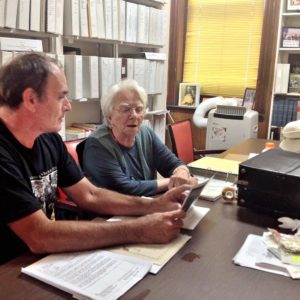 The Friendsville Interactive History Tour (FIHT) was designed and developed by local Vision Quest Studios.  The firms photographer and  designer Crede Calhoun, was assisted by local historian and geneaology librarian Ina Hicks.
Special thanks to Museum curator Ronn Friend and The Friend Family Association Heritage Museum and Genealogical Library for the use of their archived documents and their photo collections.
Thank you to all the residents who participated in the video storytelling. Hopefully, the recording of Friendsville stories can continue. The donation and addition of video clips and photos we can copy is encouraged. Interesting local artifacts? Take a picture and send it to us:)
Post old pictures, or other info on the tour facebook page.
Please contact the history tour for information.
Harry Barnes Jr.
Esther Benedict
Gene Benedict
Phil Coleman
Carol Edmiston
Maude Fike
Gracie Glass
Ina Hicks
Elanore Nicklow
Jennifer Pletta
Leroy Robinson
Freda Sines
Gene Sines
Bill Slagle
Kevin Sessler
Rob Smith
Dottie Spear
Becky Vitez
Buster & Margaret Wakefield
Gordan Wright
This Project has been financed in part with State Funds from the Maryland Heritage Areas Authority, an instrumentality of the State of Maryland. However, the contents and opinions do not necessarily reflect the views or policies of the Maryland Heritage Areas Authority